100% Customizable - Easy to Install - Free Design Services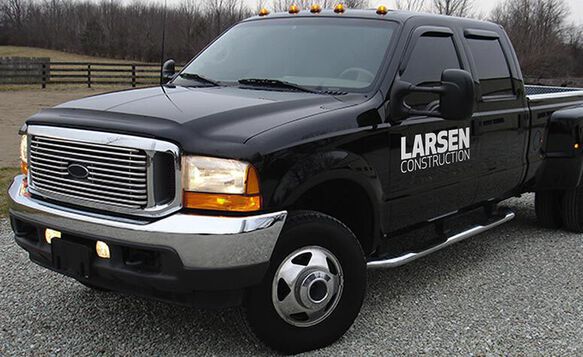 Custom-cut vinyl lettering made from 2 mil adhesive vinyl. Over 30 different colors to choose from, with the option to include multiple colors in your design. Design online or upload your own file to create 100% custom lettering! Starting at $9.75.
Read More
Store Ratings
Verified Purchase
Vinyl Lettering Just How You Need It
Choose from over 30 different colors of vinyl and have your lettering, numbering, or business logo cut to the exact shape you need for indoor or outdoor use.
(Text effects such as gradients, shadows, borders, slants, etc. are not possible with vinyl lettering. For these effects please use our custom wall decals.)
Vinyl lettering includes lettering, numbering, or shapes that are individually cut out from a sheet of solid colored, 2-mil vinyl and then pre-spaced and placed onto pre-masked transfer tape (the number of transfer tape sheets used will depend on the size of your vinyl lettering and amount of colors used). This allows the lettering to be easily installed as one piece, creating a clean and professional look.
Some surfaces vinyl lettering will work on include glass, windows, walls, storefronts, cars/trucks, and boats.
Our vinyl lettering has over 30 different colors to choose from, including specialty colors such as frosted, fluorescent, gold, and silver. You are also able to incorporate multiple colors into your lettering design.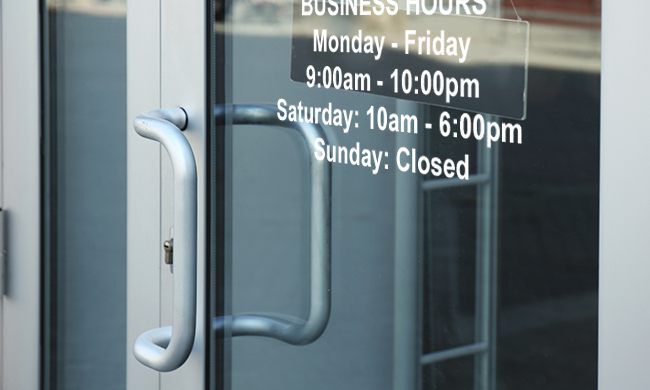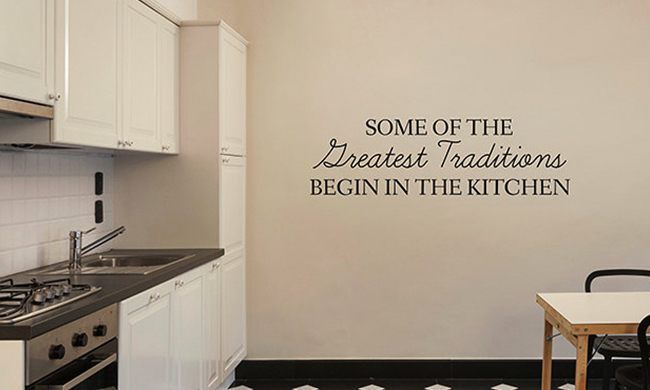 Easy to Apply and Made to Last
Pre-spaced and pre-masked for easy all at once install
Works on many different smooth, non-porous surfaces
Made from durable vinyl designed to last over 8 years and avoid cracking and embrittlement
UV and Water Resistant
Have Your Design Standard or Reverse Cut
You can choose either Standard or Reverse Cut for your vinyl lettering. Standard Cut makes it so each letter and object in your design will be cut directly out of the vinyl material, leaving no background. With Reverse Cut, each element in your design will be cut away from the background of the vinyl material. With Standard Cut the price of your vinyl lettering is based off of the size of your actual design, whereas with Reverse Cut the price will be based off of the size of the square/rectangle you are having your design cut out of.
Standard Cut
(Design Cut From Material)
Reverse Cut
(Design Cut Out of Material)
Additional Specs
Thickness

.002" (2-mil or 50 microns; about the thickness of half of a sheet of copy paper)

UV Resistance

UV protectants in the material for 5-10 years of outdoor vibrancy

Estimated Lifespan

Approximately 8 years depending on climate and use

Temperature Range

-40F to 225F

Installation Method

Pre-Masked Transfer Tape

Print Method

Cut, not printed, from vinyl sheet

Uses

Indoor and Outdoor. Business storefronts and windows, walls, home decor, cars, trucks, boats, etc
How to Install Vinyl Lettering
All of our vinyl lettering comes pre-spaced and pre-masked with transfer tape, making installation a simple, all-at-once process. Follow the step by step instructions below to help you get it installed exactly as you want it. The instructions below are for one-color and simple two-color letters and graphics. For orders with complex two-color designs or three or more colors, due to both production and installation quality purposes, you will install your vinyl lettering layer by layer for the same seamless and professional look.
Thoroughly clean and dry the surface where the lettering will be installed.
After measuring and marking your intended installation location if necessary, apply a horizontal strip of masking or painters tape to the top of the graphic with the top half of the tape on the intended surface, creating a hinge.
Note: Designs with three or more colors will require you to place individually colored layers on your wall. Two vinyl dots (one in the upper left corner and one in the bottom right corner of each layer) will be used to help align individual layers.
Hold the bottom edge of the hinged graphic away from the intended surface and remove the back liner (which is different from the transfer tape), revealing the sticky backing of your lettering or graphic. Be careful not to allow the exposed adhesive to touch the surface.
Using a squeegee*, apply pressure to the front or pre masked side of your lettering, placing the graphic onto the intended surface. Squeegee from left to right from the top down. If creases or bubbles develop, carefully lift the graphic and re-squeegee it.
*Available for purchase with vinyl lettering.
Once in place without creases or bubbles, squeegee the entire lettering or graphic to ensure the adhesive is firmly attached to the surface.
Gently remove the pre-mask transfer tape, starting at a top corner. If any vinyl begins to come off the wall, use your squeegee to firmly adhere it back to the wall and continue peeling away the premask.
Laying the liner over the graphic with the shiny side facing you, apply hard pressure with the squeegee, removing any stubborn air bubbles.
As noted above, for vinyl lettering with three or more colors your order will have one layer per color. Repeat steps 2-7 and use the registration marks in the upper left and bottom right corners to ensure proper alignment and installation.
Care
Your vinyl lettering can be washed on a regular basis with a damp non-abrasive rag. This will clear it of dust or grime without damaging the lettering. Do not use strong cleaners or scrub vigorously as both of these actions may damage and/or peel away the lettering from the surface where applied.
EASY TO USE DESIGN TOOL
Create your custom vinyl lettering with the easiest and simplest design tool in the signage industry. Upload images, create objects, add text, adjust sizing, change color, and so much more!
Check It Out
FREE PROFESSIONAL DESIGN SERVICES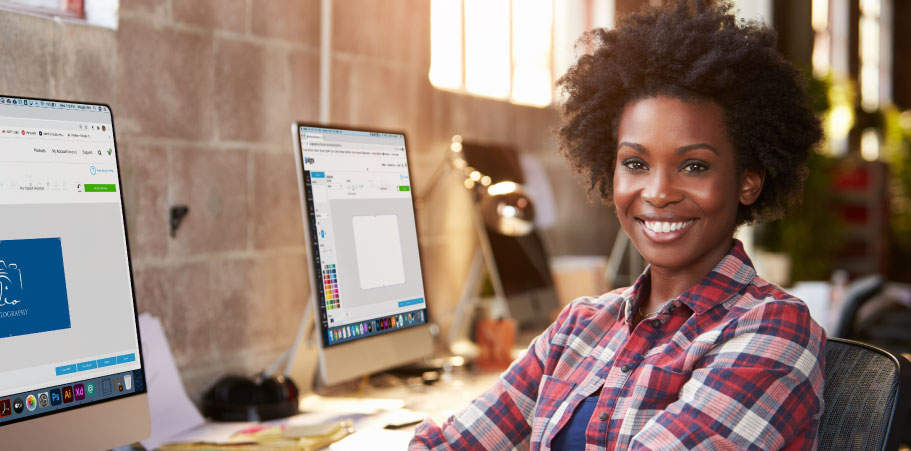 Whether you need help uploading your design or are interested in creating something entirely new, our team of professional graphic designers is here to help. Nothing beats free!
Learn More
Frequently Asked Questions
Product Specs
What is cut vinyl or vinyl lettering? Is it made up of individual letters or one continuous piece?
Cut vinyl or as it is more commonly known, vinyl lettering, is individual vinyl letters with an adhesive backing. These individual vinyl letters can be used for a variety of home and business uses both in buildings and on cars. Your letters will typically be individual letters but come pre-masked with transfer tape for easy application. See below for explanations of pre-masking, transfer tape and full installation instructions. Alternatively, our repositionable wall decals or window decals are similar signage solutions that can be cut to shape but are not individual letters like vinyl lettering.
What is your vinyl lettering made from?
Our vinyl lettering is made from high performance 2-mil (50 micron) cast film which is a high quality adhesive vinyl.
How thick is the vinyl lettering?
2-mil (50 microns)
Do you offer alternative types of vinyl lettering like reflective or marine vinyl?
The vinyl lettering currently offered on our website is a standard vinyl. For reflective or marine vinyl please contact us for availability.
Is the lettering printed or cut?
Unlike all of our other signs which are printed directly onto the material, our vinyl lettering is created from colored vinyl. Our machines and production staff then cut and weed (remove the excess) and apply the transfer tape to your lettering to prepare it for installation. Because we do not print on cut vinyl, the number of colors to choose from is limited. If you are interested in a design with gradients or many colors within the design, vinyl lettering is not a fit. But we can still help you, so please contact us.
What are the maximum and minimum dimensions of your vinyl lettering?
Your cut vinyl design can be up to 24 inches in one dimension and 600 inches in the other dimension. If you need something larger than that, we can still accommodate you. Please contact us for a quote.
How does vinyl lettering differ from your repositionable wall decals?
Vinyl lettering is typically non-printed vinyl cut outs of individual letters. Wall decals are one continuous piece of material whether they are cut to shape or not that can be printed on. Both lettering and wall decals can be applied to non-porous smooth surfaces.
Do you offer colors beyond what is advertised on the site?
We can sometimes accommodate other colors but this requires a custom quote (which comes with a longer turnaround time). Please contact us for the availability of the desired color.
Do you offer font options beyond those listed on the website? Can I send you a font to use?
We can sometimes accommodate additional font requests beyond those that are listed on the website. Please contact us to verify we can use your font.
Will all of my individual letters/design elements be placed on the same sheet of transfer tape?
In most cases, the individual letters contained within your vinyl lettering will be appropriately spaced and placed on a single sheet of transfer tape, making installation quick and simple. However, if your vinyl lettering exceeds 48" (for colors black and white) or 24" (for all other colors) in both width and height, your lettering will be split and placed onto two sheets of transfer tape. You will also receive your vinyl lettering in multiple sheets if you are using three or more different colors. In this case, each separate color will be grouped together on its own sheet.
How will incorporating multiple colors affect my vinyl lettering?
Including multiple colors in your vinyl lettering design will affect how it is printed, shipped, and installed on your wall. Most designs that include only two colors will be produced just as designs with one color - all on one sheet of pre-masked transfer tape. Installation of one or simple two-color products can be applied all at once as per the installation instructions and downloadable PDF further up on this page. Large or complex designs that include two or more colors will be printed in layers according to color. This means you will receive multiple sheets of vinyl lettering (each with pre-masked transfer tape over the top of your lettering or design). Each layer will have a vinyl lettering dot in the upper left and bottom right corners of the pre-mask film to help with alignment during installation. To install the lettering on your wall, simply align each sheet using the dots on the upper left and bottom right corners of each layer. Begin with the first layer, attach it to the wall then peel away the pre-mask film. Align the second layer in the desired position by lining up its registration dots to the ones from the previous layer that are now on the wall, then adhere the vinyl lettering to the wall. Repeat this step until all layers have been positioned on your wall. So long as the marks on each sheet are lined up correctly as you install the individual layers, your vinyl lettering will appear as if all the color layers came from a single sheet of pre-mask. This method of installing vinyl lettering is done for higher quality production purposes and is the preferred method of professional installation teams due to the more seamless end result. Remove the small dots, if any remain, that were applied during installation.
Are the pre-masked transfer tape layers (for designs with multiple colors) numbered?
The individual layers are not numbered. Please be sure to place the layers in the correct order based on your design parameters.
Why does vinyl lettering come in separate layers for designs with three or more colors?
Multiple layers are implemented in order to preserve the quality of your vinyl lettering. Because vinyl lettering is cut from material and not printed, placing more than three colors on a single pre-mask sheet could cause unwanted overlap and bubbling of the vinyl during the production process. The complexity of manufacturing designs with three or more colors requires separate layers to ensure that the material is smooth and free of bubbles prior to installation. Further, for both small and large graphics, it is far easier to install vinyl lettering with lots of colors layer by layer to ensure no bubbling and a clean install than doing it all at once.
Does my design impact pricing for my lettering?
Yes. Both the size and the complexity of your font play a slight factor in the price of your sign. Very simple fonts require less cut time and weeding than more complex fonts. However, the difference in price due to design is extremely small.
Does my choice of colors impact cost?
No. The colors we provide online are all offered at the same cost. Although, having multiple colors together will increase your cost slightly.
Will the colors on your website match exactly what I want?
When signage is printed, colors can vary from monitor to monitor. With normal signage we can offset this by doing custom color matching for a $50 charge. Because vinyl lettering is not printed but uses colored vinyl, we are unable to guarantee the colors will match a specific color you are looking for. The colors you see on screen (using standard settings) should be fairly close to the product you actually receive. However, we use a standard color set of vinyl and are happy to provide you the names of the colors we have in stock.
Can you do graphics or non-letter designs?
Aside from our small collection of clip art available online, we do not currently offer any additional graphics or non-letter designs. However, if you are looking for something custom that is not available online, we can absolutely help you. Please contact us for help getting what you're looking for.
What is the estimated lifespan of the lettering?
Our vinyl letters will last 8-10 years with proper care and placement. This will of course vary some with the placement (inside lettering vs. outside or vehicle lettering), climate, etc.
What is the default color of the material used for your vinyl lettering?
Each roll of vinyl is manufactured as a different color and we simply use a machine to cut out your design or lettering. Thus, unlike our many other products which have a "default" or "raw" color before printing occurs, vinyl lettering is different and the finished product is the same color as the raw product.
Is there any toxicity from the adhesive portion of the lettering?
No, there isn't any danger or risk of toxicity in using our vinyl lettering.
What is pre-mask? What is transfer paper or tape?
The terms, pre-mask, transfer paper, transfer tape, or even pre-masked transfer tape are all interchangeable. The transfer tape is laid over the top of your lettering. After removing the back liner and installing your vinyl lettering, peeling it away will leave your lettering in place on your desired surface. It is important to note that complex designs with two colors and all designs with three or more colors will not come on a single sheet like designs with one color. These multi-colored designs will require each color to be placed on its own, separate sheet of transfer tape. In such cases, you will need to layer the colors individually on your wall to create your final design; your design will ultimately appear as if it was on a single transfer sheet when all layers have been placed on your wall. Please see the installation instructions further up the page for detailed instructions on how to install your vinyl lettering, regardless of how many colors it contains.
Does the vinyl lettering have a matte or glossy finish?
Our cut vinyl is manufactured with a moderate gloss finish.
Does your vinyl lettering have a laminate over top?
No, our vinyl lettering does not have a laminate over the top of it. Our cut vinyls are made to last 8-10 years in indoor or outdoor use without any laminate. They come manufactured with UV protectants in the material to increase their lifespan.
What is stroke width and why should I care?
Stroke width is the width of any given letter in your design. Extremely narrow letters, or narrow portions of a letter, can be problematic when printing and weeding vinyl lettering. Thus, any custom font that is desired should steer clear of narrow fonts. Even then, custom fonts not listed on the website should be sent to us to determine the ability to produce them.
How is the height of my lettering measured?
The total size of your sign will be the width of the word or phrase multiplied by the height. The height is determined by the highest point of any given letter to the lowest point of any given letter. For example, "Testing" would be measured from the top of the capital "T" to the bottom of the "g".
What is weeding or picking?
Weeding or picking is the part of the production process in which someone "weeds" or "picks" out the portions of the vinyl that are not part of the actual design. For example, the middle portion of a "D" or "B" would need to be taken out in order to look like a "D" and "B" rather than two solid shapes. This manual process is unavoidable and can impact pricing for complicated orders which require a lot weeding.
Usage
Can I reuse it?
Your vinyl lettering can be removed at any point without any trouble. Though the vinyl lettering is a semi-permanent use and not repositionable. Once you have firmly applied the lettering, you will not be able to move it and then reapply it.
What surfaces can I apply it to? Any restrictions?
Generally speaking the principle of vinyl lettering usage is that it will work on a smooth, non-porous surface. Thus metal, glass, plastic, painted drywall, tile, painted wood, and more are great places to put your lettering. It will not work on porous surfaces, even if such a surface is including in the previous sentence. For example, untreated and rough wood will not work while a painted or treated wood most likely will. Specific places where it will not work include brick, cinderblock, heavily textured surfaces, stucco, unfinished wood, concrete, some types of wallpaper, paneling, etc.
What about cars, trucks, boats, etc? Can I install here without ruining my paint?
Yes, our lettering works on the interior or exterior of all types of vehicles. This includes both cars and trucks as well as boats. Using vinyl lettering on a car, truck or boat should not damage the paint job of the vehicle or boat as long as removal is done carefully and correctly.
Will my lettering work on tinted windows?
Yes, vinyl lettering will work on tinted windows. The caveat is that the sign and lettering needs to be designed with this in mind. A light color or white should be used to provide the needed contrast to ensure maximum visibility of the sign. Dark colors on a dark or tinted window will not be very visible, if at all. Also, all installation on tinted glass should always be done on the side of the window where you want the lettering visible to the customer. Don't attempt to install in a way that you look through the tinted glass to see the lettering.
Can the lettering be used outside?
Yes, our vinyl lettering can be used for both indoor and outdoor application. Climate, installation and care and maintenance will impact the lifespan of the lettering but they should last 8-10 years.
Will the lettering ruin my painted wall? What about wallpaper?
Vinyl letters should not ruin your paint regardless of how long they are in place. The only damage that may occur is using a sharp edge when trying to peel them away and chipping or peeling the paint away. Nonetheless, with or without a sharp edge, we recommend that removal is done with the utmost care to ensure no damage to any underlying paint. Not all wallpaper is created equal. Our vinyl lettering will work on some surfaces with wallpaper and others it won't. If your wallpapered wall is smooth and non-porous and you still have concerns please contact us about a sample. We offer free samples if the shipping is paid for. Textured wallpaper will not work with the lettering. Assuming the lettering works, removing the lettering should not damage the wallpaper itself excepting damage done when using a sharp edge for removal.
Can I apply it on wet or new paint?
Vinyl lettering should not be applied to any surface that has been very recently painted. Painted surfaces should be allowed 2-3 weeks to dry and cure properly before applying the lettering. Doing so sooner risks damage to the paint.
Are there restrictions on types of paint I can apply it to?
Your vinyl letters will work best on semi-gloss and glossy paints. Generally speaking latex and oil based paints will work. This covers the majority of homes and businesses. Alternatively, faux, flat, satin, magnetic suede and sand paints will not work well with the vinyl's adhesive.
How do I remove the lettering? What if it has been applied for a long period of time?
The majority of lettering can simply be peeled away like any other sticker. We recommend peeling it away slowly to ensure no damage to any paint. Residual adhesive, if any, can be removed with a very mild cleaner and water and light scrubbing. In some cases a sharp edge may be needed to remove lettering that has been in place for extended periods of time. Be careful not to damage the application surface when using these tools.
What are the typical uses of vinyl lettering?
Typical uses of vinyl lettering are largely broken down into two main uses. These areas of use are business and home related. For businesses, storefronts advertising store hours, sales and promotions are common. Likewise, internal offices can feature decor, motivational quotes, room numbering and much more. Likewise, fleet cars can feature a variety of lettering including registration numbers, contact information, website and business names. Home or residential uses can be for home decor (quotes, house rules, chores, welcome, etc.) as well as no soliciting, security warnings, and more.
What is the level of opacity of the lettering?
The vinyl lettering is opaque, but thin enough that some light will pass through when installed on windows. The darker the color, the more opaque it tends to be.
Can I place the lettering on the inside of the window and have it be visible from outside?
Yes, lettering can be created to be visible from outside with internal placement. This is called "Inside Glass" and should be selected as an option when ordering your lettering.
Can the lettering be used in humid locations?
Generally speaking your lettering will work just fine in humid locations or rooms (bathroom) and climates. The only exception to this is a surface(s) that is wet when applied as the adhesive won't properly adhere when initially installed. Extremely humid locations may reduce the lifespan of the decal but the lettering should still last years with proper installation and care.
Can I store my lettering for future use?
Your lettering can be stored for a short period (no greater than 1-2 months) but should be installed as soon as possible to ensure that the adhesive works correctly when applied.
Installation & Care
Is the lettering easy to install?
Vinyl lettering installation does not require professionals or a paid service. Though large quotes or stickers may require more than one person to prevent the lettering from prematurely sticking to the surface or to itself. *Designs with three or more colors will require you to place the vinyl lettering in layers on your wall. This process will be outlined below. The steps to install your lettering are below. Please read all the steps before starting the installation. The steps outlined below should be followed in order to ensure proper installation. 1. Clean the surface where the lettering will be installed with a non-abrasive rag and very mild cleaner or slightly soapy water. 2. Allow the surface to completely air dry before beginning installation. 3. Measure the area where the lettering will be installed. 4. Mark in a non-permanent fashion where you want the lettering to be applied. Ensure it is level and will be correctly placed after installation. 5. Without removing the backing of the lettering or the transfer tape (on top of the lettering) use masking or painter's tape (or other suitable tape) to affix the top edge of your pre-masked vinyl lettering to your previously marked location. *For designs with three or more colors: two vinyl lettering dots (one in the upper left and one in the bottom right) will be included with your design on each layer to assist in correctly lining up each layer on your wall. 6. Carefully peel away the backing of the decal from the top of your lettering that is affixed to the wall. Do not peel away all of the backing. Only peel away a thin horizontal stretch of the backing initially. Do not let the lettering or transfer paper (both of which now have the adhesive side exposed) touch the wall. 7. While still holding both the adhesive sides and backing away from the wall, use your hand or a flat surface (like a credit card or squeegee) to evenly and firmly press the adhesive backing of the letters and transfer paper to the surface. Move from top to bottom across the horizontal stretch you exposed in the previous step. 8. Continue to peel away the backing little by little while evenly and firmly press the lettering (with the transfer paper on top of it) onto the surface. 9. Once the lettering is fully adhered to the surface, carefully remove the masking tape hinge and transfer tape. *For designs with three or more colors: once the first layer is applied to your wall (including the dots in the upper left and bottom right corners), place the next layer by aligning the dots of layer 2 with that of layer 1 (note: the layers are not labeled). Continue application of the layers using the dots on the wall by repeating the same steps above. 10. Your vinyl lettering is now installed on the surface where you want it. 11. Remove any bubbles that remain. Remove any non-permanent markings that may remain. *For designs with three or more colors: remove the vinyl dots leftover from the installation process. Carefully peel them away from the wall by using your fingernail or a sharp edge. Take care not to scratch away paint or damage the your vinyl lettering design.
Additional Helpful Tips & Hints
Larger lettering signs can be installed piece by piece by cutting the order between words. Make sure that the backing and transfer paper are not removed and simply cut in between the words after affixing it to the surface with masking tape. This will allow you to repeat steps 6-8 by doing smaller portions of the entire phrase or quote while still keeping aligned and situated correctly as per your markings. For very large stickers this can be done not only between words but as often as possible, even for every letter, if needed. Alternatively, a middle rather than top hinge (i.e. with the masking or other suitable tape) can be used. A middle hinge just means that the tape you use will run vertical rather than horizontal. This is effective for longer quotes and words that are wider than they are tall.
What do I need to install it?
The only essential item beyond a measuring tape we'd recommend is masking tape. This will allow you to affix the lettering in the proper location and install the decal exactly where you want it. If available, a flat surface tool, such as a squeegee, would be an added bonus. Though using your hand, a credit card, or even a hardcover book works just fine in almost all cases. Additionally, a level may help to ensure your lettering is installed evenly rather than crooked due to a failed eyeball test. Lastly, if the surface is extremely dirty then we'd recommend using a spray bottle and rag, or just a damp rag, to clean the surface before installing the lettering.
Do you provide any tools for application?
Currently we sell only the squeegee for a very small cost to aid in installation. Most hardware and office supply stores will have whatever else you might need.
Do installation instructions come with my order?
Installation instructions are included on the pack slip that comes with your lettering. It also contains a link to this page for more detailed instructions and additional resources.
What happens if there are bubbles when I apply it?
If applied correctly there should be no bubbles after installing your lettering. Small bubbles that appear can be remedied by carefully lifting the portion that was just applied. Large bubbles that risk tearing the lettering or rendering it inoperable can be punctured with a pin or needle. Air can then be removed by carefully using your hand or a flat surface against the surface. Extreme care should be used to avoid wrinkles when attempting to eliminate large bubbles.
Is there any ongoing maintenance needed for the lettering?
Assuming it was installed properly the only ongoing maintenance is a light cleaning of the lettering. This can be done with a damp, non-abrasive cloth to help prevent dirt or grime buildup on the lettering. Do not scrub vigorously when cleaning the lettering and avoid peeling up any corners. A curled or damaged corner can lead to lettering that eventually falls off the surface where applied. Do not use strong cleaners that can potentially damage the adhesive properties of the lettering.
Should I clean my lettering that is used outside?
Yes, whether used inside or outside your lettering should be regularly cleaned with a non-abrasive damp cloth. Do not use strong cleaners or scrub too hard in order to avoid damaging the lettering.