No Quantity Limits
Produced Today, Ships Tomorrow
Fully Customizable with World-Class Design Tool
Posters
Most Popular
Our standard posters come in three different paper types: glossy, matte, and metallic. Printed on high-quality archival poster paper.
Learn More
Posters
Most Popular
Mounted Posters
Choose either 5MM Foamboard or 3MM PVC plastic for your mounted poster. These posters are directly printed onto the material of your choice and will hold up well for your rigid poster needs.
Learn More
Mounted Posters
Cardstock Posters
Using 24pt rigid poster paper, our cardstock posters have become a popular choice for both commercial and home poster needs. You'll be pleased with our thick cardstock poster printing.
Learn More
Cardstock Posters
Store Ratings
Verified Purchase
What are Custom Posters?
From their earliest use as public advertisements to their glory representing the box office, posters are one of the premier forms of visual communication and art. With so many uses as well as formats for posters it can be overwhelming to decide what type is best for your needs. Custom posters at Signs.com are designed to provide you with a quality print at an exceptional value. With our highly capable digital UV printers, you can easily customize your poster for a promotional event, infographic, or business art event with confidence.
Custom posters are available in a wide range of both standard poster sizes as well as custom sizes. You can find a paper or material that will suit your needs with our three flagship poster products:
Posters - Printed on high-quality archival poster paper, our standard posters provide the sharpest image while maintaining the price you'd expect for a large run poster print.
Mounted Posters - Directly printed on your choice of budget-friendly foam board or durable PVC, custom mounted posters are great for travel, presentations, and quick displays.
Cardstock Posters - With a heavyweight 24pt paper, cardstock posters will give you a great print quality with a more rigid and durable paper.
Custom Posters at a Glance
Most Common Poster Sizes
When it comes to poster printing, size matters. Whether you are using your poster for advertising or for decoration, you want your poster to be seen and noticed. There are a few standard sizes that are worth looking at to make it easier to pick the perfect poster.
EASY TO USE DESIGN TOOL
Create your custom poster with our simple and easy design tool. Upload images, create objects, add text, adjust sizing, change color, and so much more!
Start Designing
FREE PROFESSIONAL DESIGN SERVICES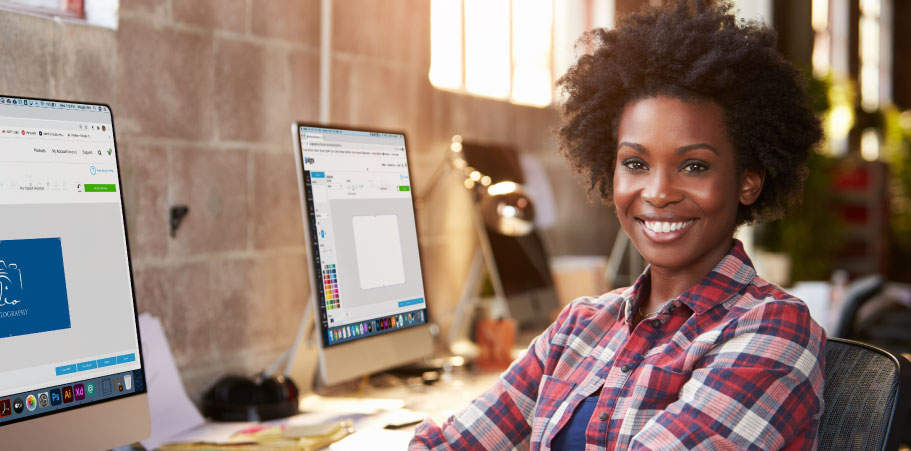 Whether you need help uploading your design or are interested in creating something entirely new, our team of professional graphic designers is here to help. Nothing beats free!
Get Design Help Now
Frequently Asked Questions
Custom Posters FAQ
What types of posters are there?
What are the primary differences between a standard poster, a mounted poster, and a cardstock poster
The primary differences are: the technology that's utilized to print each poster type; the material(s) they're printed on; the typical uses and applications for each; and their cost-effectiveness. Standard posters are photo-printed onto archival paper (with a gloss or matte). Cardstock posters, meanwhile, are printed onto 24pt cardstock, which is rigid enough to stand by itself and be displayed on an easel; they're printed with UV inks. Mounted posters are UV printed directly onto 5mm foamboard or 3mm PVC plastic (sintra). While all of our posters can be utilized indoors, only our mounted posters on PVC plastic should be utilized in outdoor environments. Standard posters are also the most cost-effective poster type.
How can I decide which type of poster will best fit my needs?
One of the initial considerations is whether the poster will be used at home as art/décor, or in a business or environment as messaging/promotion. Our standard posters are most often used in art/décor applications for home or business – they're photo-printed onto archival papers with your choice of a finish to further enhance the image, and they can be framed for a more complete aesthetic. On the other hand, our cardstock posters and mounted posters are more typically utilized for messaging and promotions in business or company facilities – they're printed with durable UV inks onto more rigid substrates that will hold up better to more challenging environments.

Another initial question to ask is: Do you intend to use the poster indoors or in an outdoor environment? If you're seeking an outdoor poster solution, then you should choose a mounted poster on PVC plastic – it's the only poster type that will withstand rain, snow, and other moisture. In addition, it is scratch- and dent-resistant, and can also be used for indoor applications. Our standard posters, cardstock posters, and our foam board mounted posters will not hold up well when it comes to moisture or the outdoors.

And one more initial consideration to take into account is shape: If you're looking for a custom shape or a non-rectangular/non-square shape, then you should opt for a cardstock poster -- these are available in custom/contour and custom with border, plus circle/oval, rounded corners, and square/rectangle. Our standard posters and our mounted posters are only offered in standard rectangular shapes.
How are your posters printed?
We utilize two different types of printing for our posters, depending upon the type of poster we're producing:
We print standard posters with continuous-tone technology, utilizing a photo printer; we output these onto archival paper (gloss or matte finish options).

Cardstock posters, meanwhile, are printed onto 24pt cardstock, so they're rigid enough to stand by themselves or be displayed on an easel; they're printed with UV inks.
Mounted posters are UV printed directly onto 5mm foamboard or 3mm PVC plastic (aka sintra).
What poster sizes are available? What are the most common/standard poster sizes?
Standard posters are available in sizes from 4"x4" to 96"x48." Cardstock posters and mounted posters are available in sizes as small as 4"x4" and as large as 94"x46". The most common poster sizes for all types are: 8"x10", 11"x17", 16"x20", 18"x24", 24"x36," and 36"x48". Keep in mind that you can have your poster created in nearly any custom size.
Do you offer different finishes for your posters?
We offer different finishes for all of our poster products. Our standard posters are available with two different paper choices and finishes: glossy, which is bright and reflective, working well with high-contrast images and low-light conditions; matte, which provides soft/muted colors and wards off fingerprint smudges; Our mounted posters inherently have a satin appearance because they're printed directly with UV ink onto foam board or plastic/sintra. However, an optional laminate can be added that will produce a glossy finish and also offer added protection. It's possible to use dry erase with the protective laminate option. Our cardstock posters are digitally printed onto 24pt cardstock which is a paper product that is rigid enough to be free standing against a wall. The prints are naturally matte in texture and appearance, but you can opt to add a glossy protective laminate over your cardstock poster print if you wish.
Can I have my poster cut into a custom shape?
Although our standard posters are offered only in standard rectangular shapes, our cardstock posters are available in custom/contour and custom with border (aka "halo") shapes, as well as circle/oval, rounded corners, and square/rectangle.
Can posters be printed double-sided?
Our cardstock posters and our mounted posters (foam board as well as plastic) can be printed on both sides. In our design tool, under "Options," you can select "Two Sides Same" to print the same design on both sides, or select "Two Sides Different" if you wish to have different designs on each side. Standard posters can only be printed on one side.
What are my options for displaying my poster?
Standard posters and cardstock posters can be displayed using 3M Command Strips (available for purchase from us), Velcro, or poster snaps. For standard posters, another option is to place the poster in a frame – we offer a front-loading snap style frame for these poster sizes: 8"x10", 11"x17", and 16"x20". For mounted posters, you can hang these with 3M Command Strips, Velcro (or other hook-and-loop fasteners), use an adhesive to glue the poster to a surface, or just prop up on an easel.
What accessories or hardware are available for posters?
We offer several accessories for displaying your poster, including: 3M Command Strips, Velcro strips, and poster snaps. 3M Command Strips and Velcro strips can be utilized for all poster types, while poster snaps can only be used for standard posters and cardstock posters. In addition, our front-loading snap style frames will accommodate three of our standard poster sizes – 8"x10", 11"x17", and 16"x20". Also available is our 66" aluminum easel; capable of displaying posters and signs up to 48" high, it has telescoping legs that can collapse down to just 21" overall length.
Can the posters be used outdoors as well as indoors?
Among our poster lineup, our mounted posters printed onto PVC plastic are your best choice for outdoor environments. PVC plastic holds up well in rain or snow, while also being resistant to dents and scratches. And these mounted posters can also be used indoors. We don't recommend our foam board mounted posters, cardstock posters, or standard posters for outdoor use – they're susceptible to being damaged by moisture (although all of these are perfectly fine for interior applications).
What are the most common uses for posters?
Our standard posters are used in homes as well as in business and office spaces. For the home, we find them being displayed in living rooms, entertainment rooms, bedrooms, kitchens, hallways, foyers, basements, man caves/she sheds, and throughout the house to enliven the living area. For businesses, they're often displayed in company lobbies, conference rooms, employee lounges/common areas, staff offices, dining areas/kitchenettes, and elsewhere. Cardstock posters are great for business presentations, product ads, in schools for rules and instructions, in facilities with messaging for safety procedures, for posting information at health offices, and more. Mounted posters are typically used for retail sales and point-of purchase, business promotions, directional messaging, events/tradeshows, regulatory/safety, real estate/property management, and many other applications. Remember that while PVC plastic mounted posters can be used for both outdoor and indoor applications, our foam board mounted posters should only be used for interior applications.
How long can I expect my poster to last? What's the best way to care for my poster? And how should I
Our standard posters are printed on archival paper, so as long as they're installed indoors they'll last decades. However, frequent handling and excessive UV light can significantly shorten their lifespan. To clean your poster, use a dry, non-abrasive cloth; don't use any kind of cleaning product on your poster. We recommend storing your poster flat, in a protective envelope. Cardstock posters can last up to 2 years with proper care and maintenance. Be sure to only use your posters in indoor environments, and to avoid exposing them to liquids or excessive dust or dirt. Use a dry cloth to clean cardstock posters. When storing, stack them flat, or roll and fasten with a rubber band; avoid bending or creasing to prevent damage. Mounted posters on foam board can last two years or more, while mounted posters on PVC plastic can last five or more years; keep in mind that harsh weather and extreme temperatures can shorten the lifespans of posters installed outdoors. Clean mounted posters on foam board by gently wiping with a dry cloth; for posters with a protective laminate, wipe the surface with a non-abrasive cloth (a citrus based cleaner or isopropyl alcohol can be used). For mounted posters on plastic PVC, clean with a damp cloth and mild soap. Mounted posters should be stored flat, in a cool, dry environment – be sure to avoid extreme cold, hot, or humid storage areas. Foam board posters are especially susceptible to bending or creasing, so avoid placing heavy objects on top of them.