3-Day Production (In Stock!) 
•
 100% Custom 
•
 Free Design Services 
•
 No Minimum Order 
•
 Antimicrobial Treated Fabric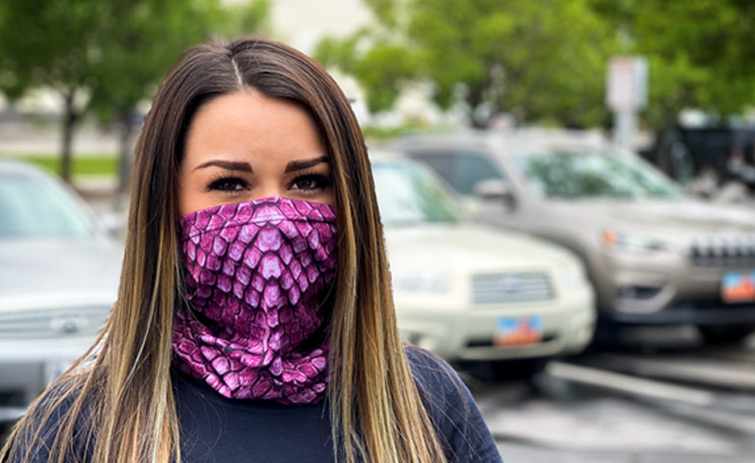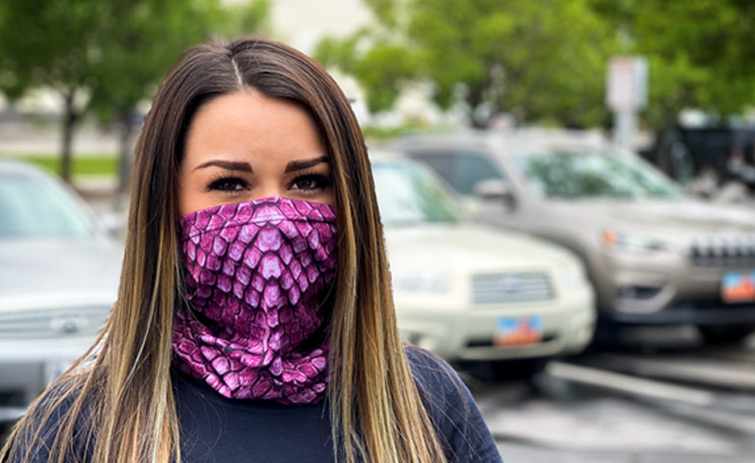 NEW!

Antimicrobial Treated Fabric
Breathable 100% 2-Layer Polyester Fabric
Comfortable Fit With Elastic or Fabric Straps
Machine Washable and Reusable
2 Sizes: Large (most adults) and Small (petite and youth) - size chart
Additional Use as a Covering for N95 Masks
Disclaimer: Signs.com masks are for general use while out in public and are not intended for use in medical settings. We cannot guarantee that the mask prevents infection or the transmission of viruses or diseases.
Why Signs.com Masks?
Giving Back
For every mask order we donate $1 to the CDC Foundation's Emergency Response Fund.
Award Winning Customer Service
Winners of numerous customer service awards, our customer experience team keeps you as their number one priority throughout your entire experience with Signs.com.

Trusted Printer
Well-known within the signage industry with over 125,000 reviews, we're applying our printing expertise to masks to help comply with the CDC's recommendation that masks be worn by all.
Antimicrobial Treated Fabric*
Our customs masks come with antimicrobial protection built in to the outer layer of our two layer mask. The antimicrobial treatment is designed to inhibit the growth of microorganisms on the mask surface. This is accomplished through a unique combination of silver and vesicle technologies to create a hygienic fabric perfectly suited for custom printing.
*Antimicrobial properties built in to protect the product. Product does not protect users or others against pathogens. Always clean the product thoroughly after each use. Treatment lasts at least 30 washes.
Face Mask Sizing Guide
Choose the size below that matches your measurements
Step 1
Measure from the bridge of the nose to the bottom of the chin
Step 2
Measure from the tip of the nose to the ear lobe
Check Out Our Custom Neck Gaiters As Well!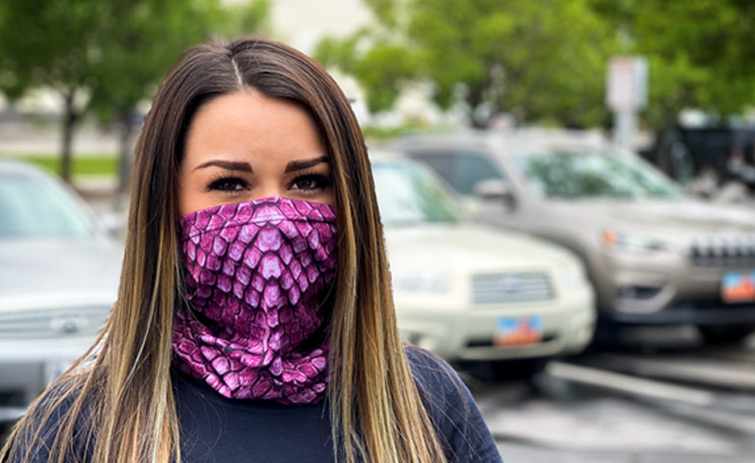 We are now offering custom neck gaiters, which are also a great solution for covering your face during this time. Our neck gaiters are made from a stretchy polyester fabric, allowing them to easily slide over your head and rest snugly on your neck. The great thing about gaiters is their ability to be used in a variety of ways. They can be used strictly as a neck warmer, as a covering for the entire lower half of your face , or even as a headband or beanie. Another great feature is the moisture-wicking properties they have, keeping them nice and dry while in use.
As with our custom face masks, we are donating $1 to the CDC Foundation's Emergency Response Fund for each neck gaiter order placed. So, getting yourself a custom neck gaiter is not only a great way to protect yourself and others during this time, but is also going towards giving something back to the community.
Popular Templates (Large)
Popular Templates (Small)
Designing Your Own Mask
If you're looking to personalize or design your own mask, the templates and tips below will help guide you through the process. Once you're familiar with our mask template, jump into our online design tool or get free design help.
The picture above shows our mask laying flat before it is sewn. When sewn, the top triangular sections will be sewn together to become the part of your mask that goes up over your nose.
The picture above shows our mask after being sewn. We recommend making sure logos, words, hashtags, and other main design elements avoid the nose area for the best looking masks.
Easy to Use Design Tool
Create your custom face mask with our simple and easy to use design tool. Upload images, create objects, add text, adjust sizing, change color, and so much more!
Check It Out
Free Professional Design Services
Whether you need help uploading your design or are interested in creating something entirely new, our team of professional graphic designers is here to help. Nothing beats free!
Learn More
Additional Specs
Material

100% 2-Layer Polyester Fabric

Details

2-layer polyester face mask with elastic or fabric straps for maximum comfort and breathability. Washable and reusable.

Uses

Intended for general use to comply with the CDC's recommendation that everyone wear masks in public. Not intended in medical settings nor medically rated.

Print Method

4-color, Dye-Sublimation Process

Finish

Sewn

Estimated Lifespan

1-3 years depending on use

Sizes

Large (most adults) and Small (petite and youth)
How to Properly Wear and Remove Your Mask
Regardless of whether you choose elastic or fabric straps, the first thing you need to do before putting on your mask is to wash your hands to avoid contaminating your mask. Once you have clean hands, for fabric masks grab the mask by the top straps and tie them together above your ears. Next, tie the two bottom straps together below your ears at the top of your neck. Make sure your mask is covering your nose at least up to its bridge, is covering your mouth around your chin and is snug against your face without any gaps on either side.
While wearing your mask, be sure to never touch the front of it, just as you would avoid touching your face. Another thing to avoid is pulling the mask down and letting it rest under your chin. If you need to reposition your mask while you are wearing it, do so by maneuvering the rear straps instead of touching the actual face of the mask. For elastic straps, the same hygiene instructions apply but to put your mask on you simply need to pull either side's elastic straps to where it rests comfortably over each ear.
Be sure to wash your hands prior to removing the mask. Start by untying the top straps and then follow with untying the bottom straps. For elastic straps, simply remove from behind your ears. Once you have removed your mask, be sure to wash your hands and place your mask in a safe, non-contaminated area. See the section below on how to wash and care for your mask when it is not in use.
How to Care For Your Mask
Be sure to wash your face mask before the first use.
It is recommended that you wash your cloth face mask after each use. The preferred washing method is to simply use your washing machine at a temperature no greater than 140 F, though it is also possible to hand wash your mask. Masks can be air dried or in the dryer using a low heat setting.
Note: When removing your mask after use, be careful to not touch your eyes, nose, or mouth. Wash your hands immediately after removing your mask.
CDC Resources
Wearing cloth face coverings in public settings where other social-distancing measures are difficult to maintain (grocery stores, pharmacies, etc.), especially in areas of significant community-based transmission.
Wearing simple cloth face coverings to slow the spread of the virus and help people who may have the virus and do not know it, to prevent transmitting the virus to others.
Cloth face coverings should not be placed on: young children under age 2; anyone who has trouble breathing; or is otherwise unable to remove the mask without assistance, incapacitated, or unconscious.
Keep in mind that recommended cloth face coverings are not surgical masks or N-95 respirators. Those are critical supplies that must continue to be reserved for healthcare workers and other medical first responders.
The cloth face cover is not a substitute for social distancing. Continue to keep about 6 feet between yourself and others. You could spread COVID-19 to others even if you do not feel sick.
You can find more detailed CDC face mask information on the organization's website.
Frequently Asked Questions
Custom Masks FAQ
Are your custom face masks similar to what healthcare workers and first responders are using? Are they N-95 respirators?
No! Our custom face coverings are not surgical masks or N-95 respirators. Those are critical supplies that must continue to be reserved for healthcare workers and other medical first responders. However, by wearing our custom face masks and along with proper social distancing, you can help prevent transmitting the virus to others as a result, you're helping slow the spread of the virus. In addition, our cloth face masks are compatible as an N-95 mask cover.
So, these masks are not appropriate for use in medical situations, is that correct?
That's correct. Our Signs.com custom face masks are strictly for general use while out in public. So while some might refer to them as "covid masks" or "coronavirus masks", they are not a medical-rated mask so are not intended for use in any of the following settings: (1) in any surgical setting, or where significant exposure to liquid, bodily, or other hazardous fluids may be encountered; (2) in a clinical setting with the risk of high infection due to inhalation exposure; or (3) in the presence of high-intensity heat or flammable gas. Only NIOSH-certified N-95 respirator masks should be used in these settings. We make no warranties, either express or implied, that our custom face masks prevent infection or the transmission of viruses or diseases.
What material are your custom face masks made from?
Our custom face masks are 100% double-layered polyester. As a result, they're durable, flexible, and dry quickly. The outer layer is antimicrobial treated fabric.
What printing process do you use to add my design to your custom face masks?
Our custom fabric masks are printed using dye-sublimation (aka dye-sub), which is a common way of printing on various fabrics. It works like this: Your design is digitally printed in reverse on heat-transfer paper; once printed, both the paper and the polyester fabric are fed into a heat-transfer machine that acts like a large iron, transferring the image from the paper directly to your face mask's fabric. The dye-sub process actually dyes the design into the fabric, resulting in a durable, high-quality mask that can be easily cleaned.
Do you print in one color or full color? Does a full-color custom face mask cost more?
Our custom face masks are printed using the dye-sublimation process in full color. If you only need a single color, that's fine as printing in full color or one color does not affect the price of your cloth face mask.
How soon will I receive my custom face mask once I've ordered it?
We're offering 3-day production on our custom face masks, with no minimum order. The actual delivery date will depend upon which shipping method you choose. Please note, that large orders may impact how fast we're able to produce your masks. Customers with large orders will be contacted if production time will be longer than 3 days.
What is the lifespan of your custom face masks?
The combination of durable polyester fabric with dye-sublimation inks should enable our cloth face masks to last approximately 1-3 years, depending upon use.
I see you offer both elastic and fabric straps. Is one type of strap better than the other?
The answer to this question is largely one of preference. There are some that prefer elastic because they are easier (just slip either side over the ears rather than tying the top and bottom fabric straps) to put on and take off of your face. Alternatively, there are others who have said that the elastic straps can pull too tight and cause irritation around the back of the ears if worn for extended periods of time. As such, we offer both types so that no matter what your preference is you can choose your preferred mask! We believe that both are great products that you will love!
What color are the straps of the mask?
The elastic straps are white. The fabric straps of your mask will either be white or black. Our production team will select the color most appropriate for your design in order to help keep your turnaround time as fast as possible.
What shipping carrier do you use?
Our standard carrier is UPS. For Face Mask orders that don't qualify for free shipping you will be given the option of UPS shipping as well as flat rate shipping from USPS so you can choose whatever carrier and price work best for you.
Should I be concerned about the custom face mask ripping or tearing?
Because our custom face masks are made of double-layered polyester (see above), they are more durable than many fabrics. That said, as with all fabrics, there is the potential for ripping or tearing if they're roughly or carelessly handled. We suggest not being overly aggressive in handling your mask when putting it on or removing it (and reminding your children to do the same!)
Is there any restriction on what I can have printed on my custom face mask? My company logo? How about superheroes, sports, logos, cartoon characters, etc.?
Your own company logo is fine, of course, as is any image or design you own copyright/trademark to. And we offer free design services on our custom face masks, as we do with all of our products! Due to copyright laws, however, printing any copyrighted image of a superhero, athlete, logo, athlete, cartoon character, celebrity, etc. is prohibited including Disney characters, logos from the NBA, MLB, NHL, NFL, NCAA (and other leagues), Star Wars, Marvel, and DC Comics characters, and all animated cartoon characters. Permission from the copyright holder is needed in order to print such images unless they have licensed the copyright to allow for reprinting. If you don't have the express permission of the copyright holder you will be violating our terms of service and the terms of the copyright material.
Are your design services really free? How can I take advantage of that?
Yes, that's correct, our design services are indeed free for our custom face masks as well as any of our custom signs. We provide this free service because we know that people occasionally get frustrated creating a design that meets their needs and requirements. We'll work with you for free on up to two mock-ups, as long as you plan to purchase the product from us that we're helping you design. If you provide enough details and information on your design needs up-front, we've found that we can almost always create what you want within two mock-ups.
Is your mask really antimicrobial?
The outer layer of our masks are treated with an antimicrobial treatment engineered to work against enveloped viruses such as influenza and human coronaviruses. While this material has been tested in Australia to be effective against 99.99% of SARS-CoV-2, testing and approval in how it is marketed varies from country to country. In the United States, the antiviral claim is currently under review. Thus, until testing is completed in the U.S. it is currently recommended that we include this disclaimer: Antimicrobial properties built in to protect the product. Product does not protect users or others against pathogens. Always clean the product thoroughly after each use. The treatment here discussed is good for at least 30 washes as per the instructions found on this page. The purpose of using an antimicrobial treated material is to add one more layer of protection. This treated material is designed to inhibit the growth of microorganisms on the surface of your mask with our two layer mask providing further protection for general public use.